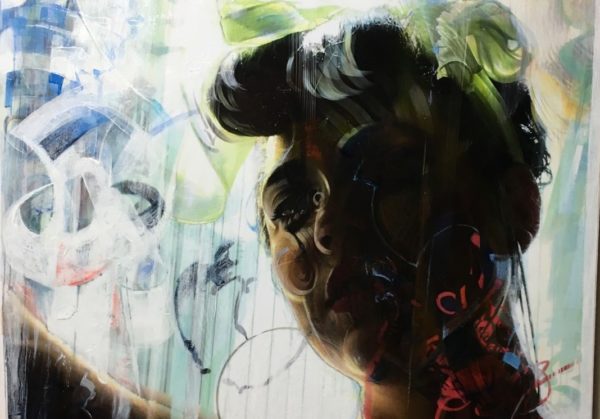 A new step forward, a new Visual Remix
I have a new photographic remix created from my own photos of model and performer Meghan Suzanne Eason. This is the first step from the platform of my Visual Remixes series, which used amazing performance and other photographs taken by a host of Bay Area photographers. Through that year-long process, I learned the approach and techniques that I now carry forward to this luminous new piece!
The opening for the group show this piece is part of is:
Friday, September 23, 2016 @ 6 – 9:30 p.m.
The Castro Street Art Saves Lives Studio and Gallery
518a Castro Street
San Francisco, CA 94114
The photo series
Shot in the Art Saves Lives studio and gallery in the Castro neighborhood of San Francisco, these pieces challenged me to see as I do and as I haven't before. The backgrounds were both glowing with light and starkly studio-industrial. Meghan's outfits and look was far less self-serious than my art usually is, so I had to meet the subject halfway. This too is a skill I have had to learn in the process of creating the Visual Remixes series. Now, a small and delightful proving ground presented itself to me and I jumped in.
Meghan Remixed
Digital painting, Acrylic Paint and Ink on Photograph
Photographic Print mounted on Wood Panel
16″ x 16″ x 1.5″ deep
Until next time,
peace, love and twisted inspiration to you all.
– Eddie